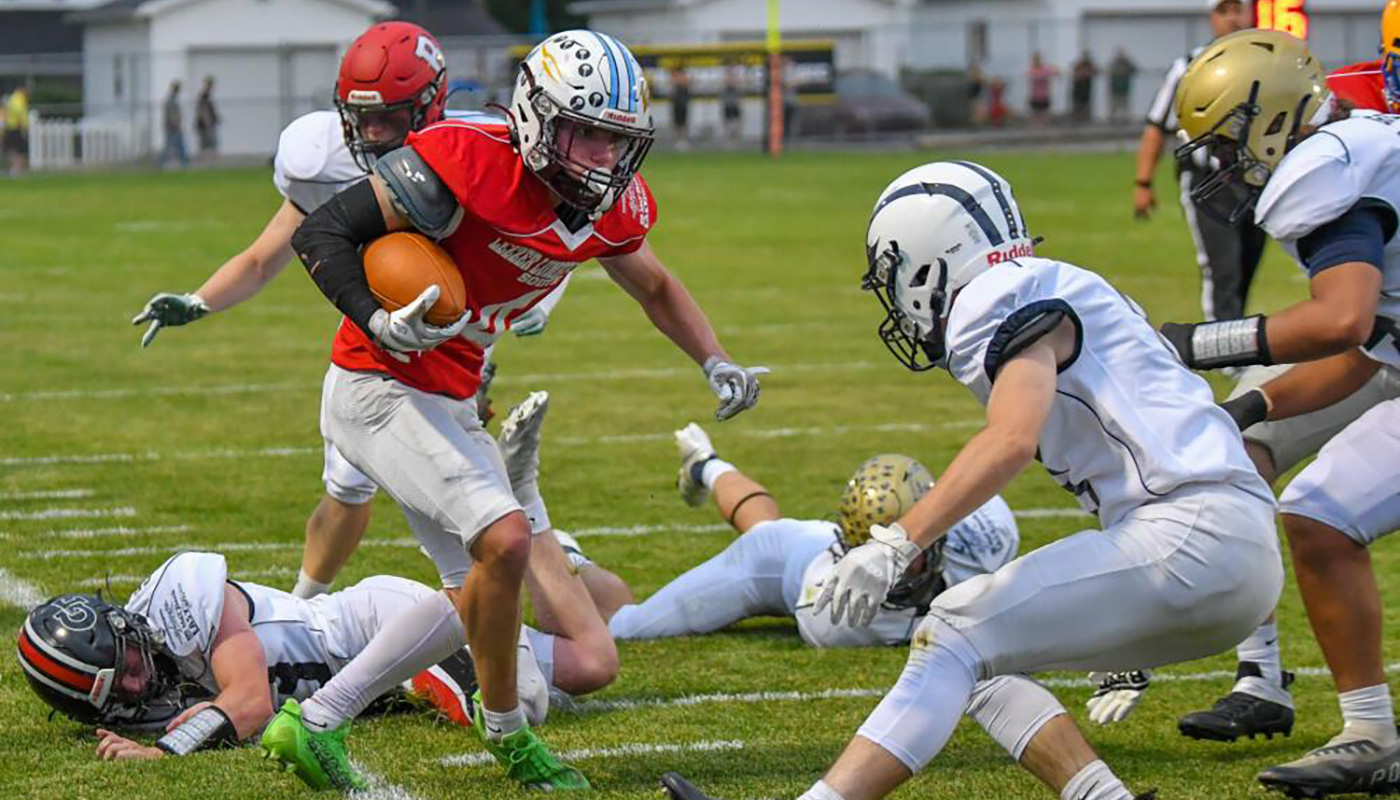 South Ends Five Game Losing Streak In 2023 Lezzer Lumber Classic
By: Shane Lux / June 12, 2023 / Photo: Leo Murray
Tyrone - The South scored 45 points and cruised to a 45-20 win over the North at the 38th Lezzer Lumber All-Star Classic.
Southern Huntingdon's Nate Myers threw for 208 yards and four touchdowns to lead the South to victory - Bishop Guilfoyle's Dominic Yanoshak caught four passes for 98 yards and two scores to lead the South in receiving.
Yanoshak's 11-yard touchdown was the first thrown by Myers that gave the South a 14-6 lead with 49 seconds to play in the first half. The two also connected on a 36-yard pass during the 6-play 66-yard drive.
In the third quarter, Yanoshak's 18-yard reception from Myers gave the South a 22-6 lead heading into the final stanza - Myers and Yanoshak also hooked up for a 36-yard completion capping the 5-play 94-yard drive.
Following a scoreless first quarter, the North took the lead as Bald Eagle Area's Gavin Eckley hauled in a 7-yard reception from Curwensville's Daniel McGarry following a drive that covered 55 yards in 12 plays.
Daniel McGarry threw for a game-high 303 yards while also tossing three touchdowns.
Directly proceeding a bad punt snap that lost 25 yards, Hollidaysburg's Tucker Rossman threw a 7-yard touchdown pass to Central's Eli Lingenfelter that tied the game at six with 6:18 to play in the first half.
The final quarter, which saw five touchdowns in the first 3:32, got started when Penns Valley's Miles Brooks caught a 53-yard touchdown McGarry - Brooks caught eight passes for a game-high 158 yards.
One minute later, Altoona's Tyson Reid hauled in a 55-yard pass from Myers.
On the next play from scrimmage, Central Clarion's Ashton Rex caught a 39-yard touchdown from McGarry – due to game rules where the team receives the ball after scoring when down by nine or more points, the North accepted the kickoff. Still, Juniata's Casey Smith intercepted McGarry and returned it for a touchdown.
Smith's touchdown marked three in a span of 1:17 of the fourth quarter.
The South capped the scoring when Lingenfelter caught his second touchdown from Myers with 2:37 left to play, covering 37 yards.